Click Here to view NoDa 101 Drink Specials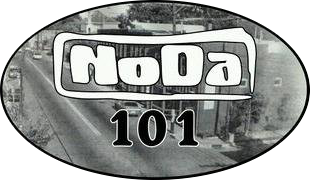 NoDa 101 (previously Sin City) is a popular late-night party destination on North Davidson. They also offer a fully-featured food menu (see the above food promo!)
NoDa 101 aspires to be a friendly neighborhood establishment with a warm and inviting atmosphere. There are events and specials every night to keep you entertained. In addition, NoDa 101 also serves $5 bombs every day and features a half-price bar and DJ every Monday. Karaoke rocks the house Thursdays and Saturdays, with bands taking the spotlight on Fridays. On Sundays, NoDa 101 is the place to be if you're a Cleveland Browns fan, as Sean is Cleveland born and raised and a die-hard Browns fan. They also feature NFL ticket so it's a great spot if you want to catch any other teams as well.
When asked about himself, this is what the owner of NoDa 101, Sean, had to say:
"I had my first job after college in Charlotte, and lived in uptown for my first one and half years of being here. I purchased a home in NoDa because I love the down-to-earth atmosphere of the neighborhood. After almost three years of bouncing around the hood (with absolutely no experience up front) I wanted to give back to the neighborhood in my own way so I opened a bar."
NoDa 101 is always a good choice when you want a friendly escape from the monotony of everyday life. The staff is friendly and fast, and no matter what night you venture out, you'll always find cool stuff happening at NoDa 101.
For more info, you can check out NoDa 101's Facebook page here. To view NoDa 101's Gallery, click here.