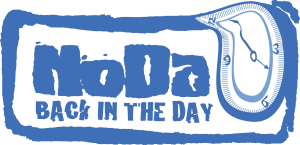 Who?: NoDa Neighborhood Association's volunteer history committee: Back in the Day
What?: NoDa Ghosts & Legends Walking Tour
When?: Friday, October 21st, 2011, (gallery crawl*) 6:30pm to whenever
Where?: corner of 35th St. & N. Davidson St.
How Much?: Free (donations appreciated)
On October 21st you'll have the chance to meet the invisible at the second annual NoDa Ghosts and Legends walking tour. Starting at 6:30pm, tour guides will lead you through the south side of NoDa and wow you with stories about the dead still "living" among us. You'll also learn interesting historic tidbits and anecdotes about North Charlotte history as far back as the late 1800s. (Did you know NoDa had its very own money tree?)
If you were one of over 300 walkers who took the tour last year, you will remember the ghost of the Herrin Avenue trestle, the mill worker who met his fate on Halloween, and Cajun Man, who continues to haunt local NoDa eateries.
This year the tour will have brand new stories and a completely new route. We will step off from 35th Street and North Davidson, in front of Fat City Lofts, beginning around 6:30pm. Show up there to receive a ticket with a time slot (first come, first served). Expect to spend about 45 minutes walking. Stops include the Highland Mill, the old boarding house, and a couple of makeshift graveyards. If you can't make the 6:30pm start do not fret: tours will continue at regular intervals throughout the night.
As always, our tour is free, but we gladly accept donations to aid in advancing our mission to preserve the history of the NoDa neighborhood. We also love when visitors add their own yarns to the mix.
So, bring your stories and your walking shoes to North Davidson Street October 21st!
Facebook Event Page
Event Brochure
*Note: Friday, October 21st, is a NoDa gallery crawl night. All Arts Market, another event hosted by a volunteer neighborhood committee will be held that same night at Neighborhood Theatre to promote local artists.